Shop Blog – Tsukikageya – the Yukata shop
Hi!
I'm Rikarin, a tour guide for Harajuku on pop-cul.jp!
Today I'm going to introduce you my favorite Yukata shop, Tsukikageya!
月影屋 (Tsukikageya)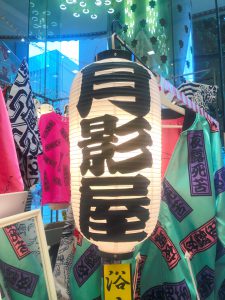 pop-up shop in LaForet Harajuku 1F entrance
address: Laforet HARAJUKU 1-11-6, Jingumae, Shibuya-ku, Tokyo 150-0001
date: ~7/25
opening hours: 11:00-21:00
instagram: https://www.instagram.com/natsuki_shigeta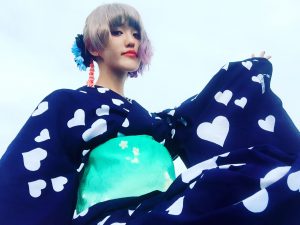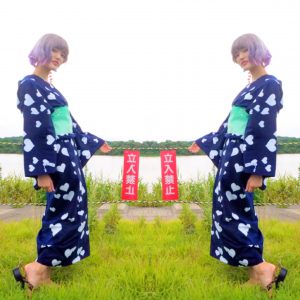 at first, do you know what Yukata is?
Yukata(浴衣) is summer version of Japanese traditional Kimono(着物)
These days we usually wear Yukata when we're out for  Matsuri (Japanese traditional summer festival) , fireworks watching, and so on.
In summer you could see some Yukata people around in Japan if you're lucky!
(The Yukata I'm wearing in the photo is from Tsukikageya!)
Tsukikageya is a Yukata brand directed by natsuki shigeta.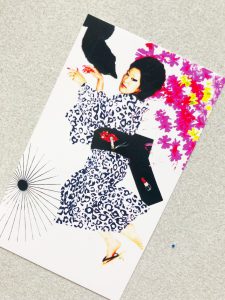 all these Yukatas are designed by her. Normally the image of Yukata is mainly flower patterned, but Tsukikageya's one are far more unique.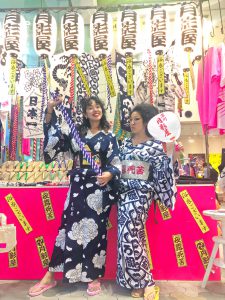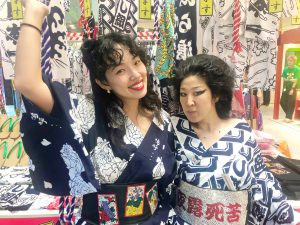 Tsukikageya Yukata wore by Rieko(left) and Natsuki(right)👘 It looks really new, but a little nostalgic too. The patterns are so creative and strong!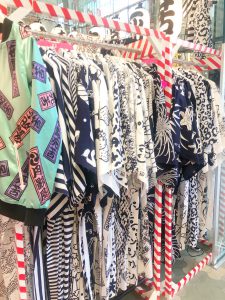 those patterns are  dyed by hand. And these Yukata uses the same material which traditional top Yukata maison uses😲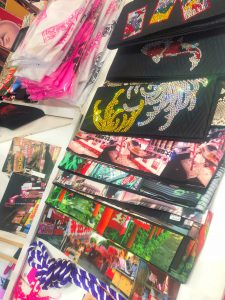 Also there are original Obi (帯) as well.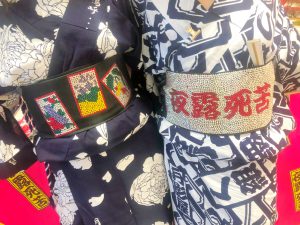 Obi is the item to tie up in the waist.
Love these glare spancols ✨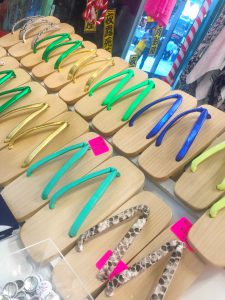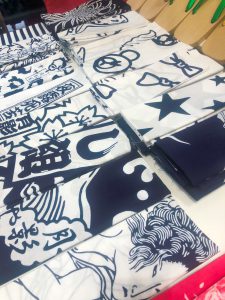 You can find Geta (下駄, traditional Japanese sandal) and Tenugui (手ぬぐい, hand towel) too❤
And, here's new released T-shirts!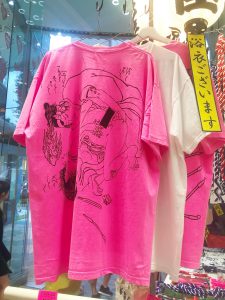 The motief is Japanese Shunga(春画, sex motief drawings)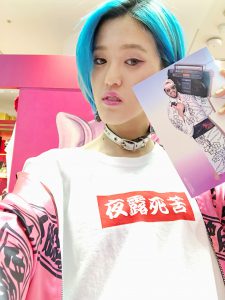 and the word 夜露死苦( there's no exact translation for English, but this is one of the word that Japanese Yankee – gang – used) etc
I love neon pink colors and the impact these T-shirt has💞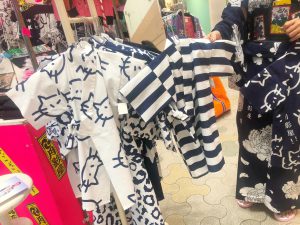 There are yukata for baby and kids as well and I'm sure I will chose Yukata from Tsukikageya when I have baby in the future! Hahaha😂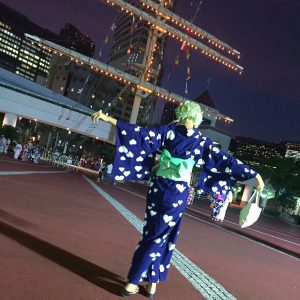 I have heart-printed Yukata and I really love this!
it really stands out and really comfortable to wear🌈
now planning to get Obi from here haha.
Tsukikageya now have pop-up in LaForet but for the other season they have their shop in Yoyogi area! (It's one or two station from Harajuku) so if you're in Tokyo, you could go there to get cool Yukata!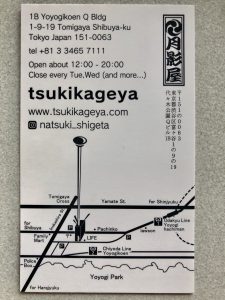 then, that's all for today!
thank you for reading and see you on next blog☺