Hi!
Here's Harajuku Blog by Harajuku Tour Guide Rikarin❤
Today I'm going to introduce you the shop "HYPERCORE"
< HYPERCORE >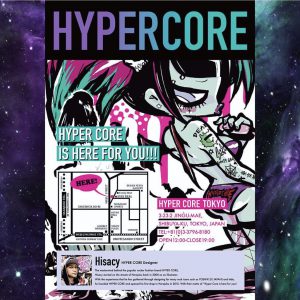 Address: 3-23-2, Jingu-Mae, Shibuya-ku, Tokyo, Japan
Phone number: +81(0)3-3796-8180
Opening hours: 12:00-19:00
Website(web shop): http://hypercore.theshop.jp
Twitter: https://mobile.twitter.com/hypercore_hrjk
Instagram: https://www.instagram.com/hypercore_hrjk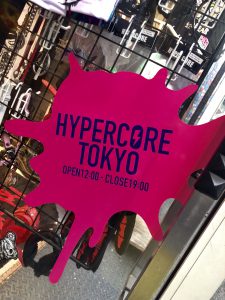 HYPERCORE is a Character Rock Brand directed by Hisacy.
The shop in Harajuku is in Harajuku Street.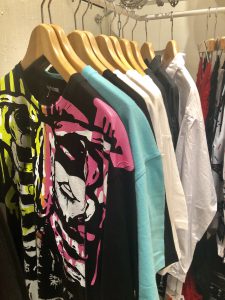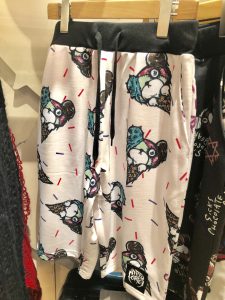 The shop have so many cool fashion items⚡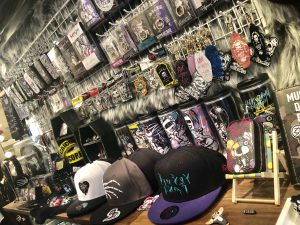 Also they have accessories and daily useable items too. Those are not so high prices so maybe good for souvenirs too❤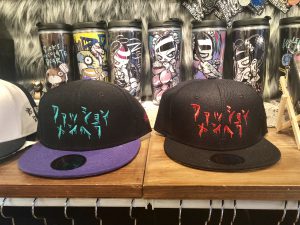 This cap have Yami-kawaii taste as well!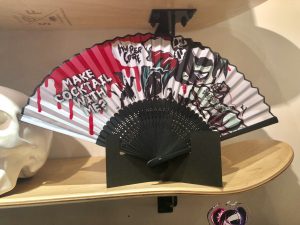 This is Japanese traditional 扇子(Sensu), which is a fan. But the design is really unique and kawaii!
The inspiration of designs mainly come from music, especially Visual-kei, Rock, Punk music.
Visual-Kei is one of punk rock music genre in Japan. They have their own style for makeup, fashion, and of course music too.
He collaborated with so many artists including some rock musicians like YOSHIKI (X JAPAN), hide, and so on.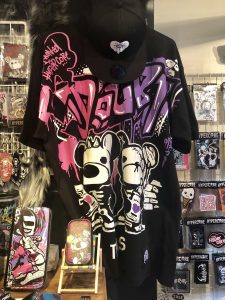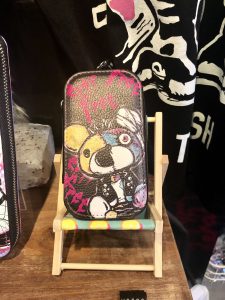 These items are collaboration with LEMONed!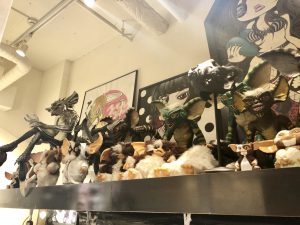 On the above of the shop, there are so many Gizmo collections!! It's hisacy's hobby to collect Gizmo and he displays them in the shop✌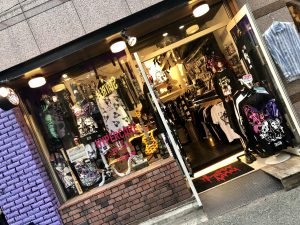 Also designer hisacy is always in the shop in Harajuku (he says he have no off-day! Wow!) so it will be so interesting to hear the behind story of the items and brand as well✨
(when hisacy is out for oversea event, the other staff will be in the shop but other than that he is always there )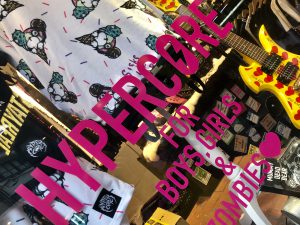 When I went the shop to take pictures, he said he will be flying to Taiwan for holding popup shop in the event from tomorrow😲
now he says 70% of customers are foreigners, so he is looking forward to grow his brand to the world. He already He said If he have good chance, he will go everywhere!
So, maybe he will have short pop-up store in your town someday…?!
AND, here's big news for you in LA!!
he will open pop-up shop on ANIME EXPO on July! It will be so big Japanese culture event. If you're happened to be there, check his shop to see all the cool items!
So, If you're in Harajuku, we're waiting for you to meet you in our program and let's stop by HYPERCORE and say hi to hisacy👋