Harajuku Takeshita Street New Entrance Gate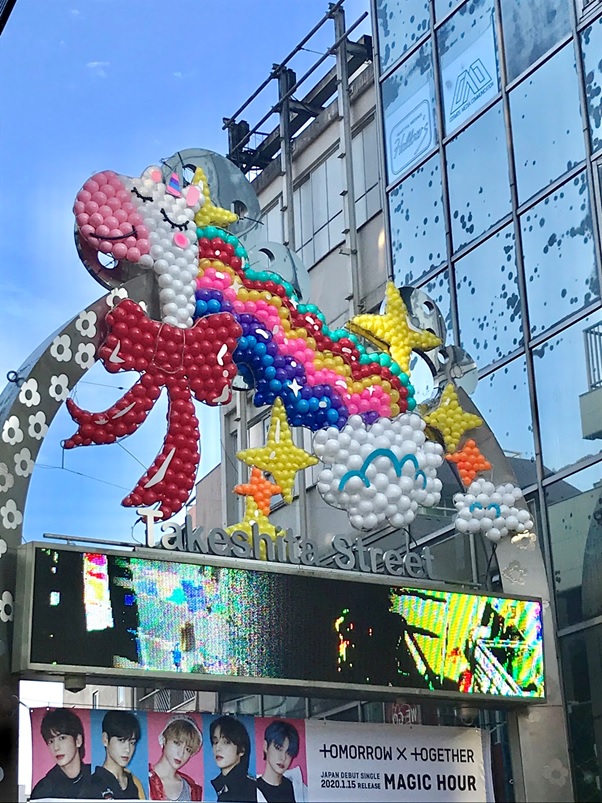 If you ever came to Harajuku you probably noticed the big and brightfully decorated entrance gate of Takeshita street.
What is it here for ?
It's the first thing you see when you come out of Harajuku station, and it harbinger very well what kind of place this town is ! 
It's always made out of colorful bubble-like installations which put all together form a cute 2D drawing. At first I used to think these were balloons haha!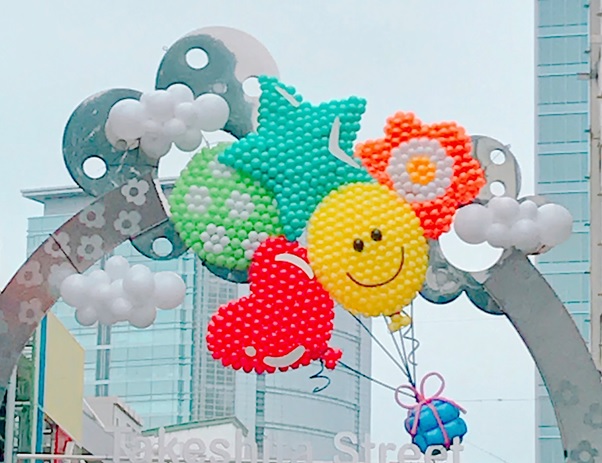 If you take a look just below that installation you can see an interacting panel, which is switching between greeting you in different languages and turning into a live camera mode so that you can perceive yourself while walking thru the gate !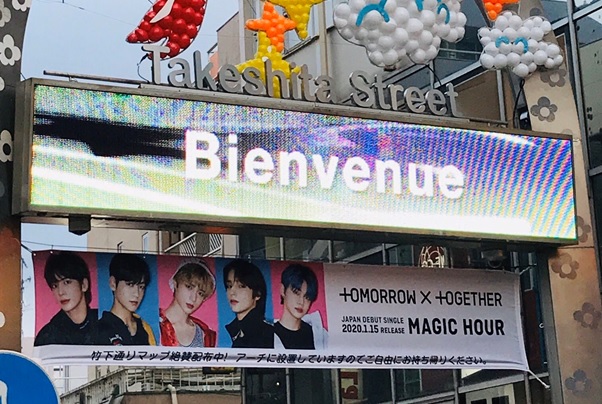 An unexpected traditional side…
You might think this is just a gate, but gates(Mon in Japanese) have a huge place in Japanese culture especially when it comes to temples, shrines and some traditional style buildings or castles.  In case it's a religious place, It marks a changement from the normal world to the divine world.
 As a fellow Harajuku lover, I like to imagine Takeshita's gate is a passage from the normal world to a colorful and fun one, because that's exactly how it feels !
What does it look like this season ?
That's why I chose this topic today !
This season, Takeshita's entrance has been designed by a popular Harajuku icon : Haruka Kurebayashi !!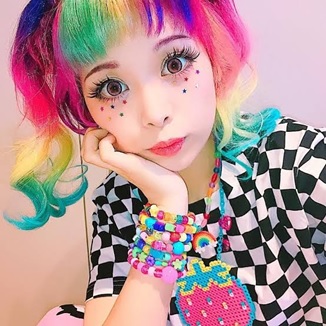 She's a Decora fashion Instagramer, YouTuber, singer, producer and brand owner ! And lately she achieved what would sound like a dream to any Harajuku enthusiast : she designed THE gate !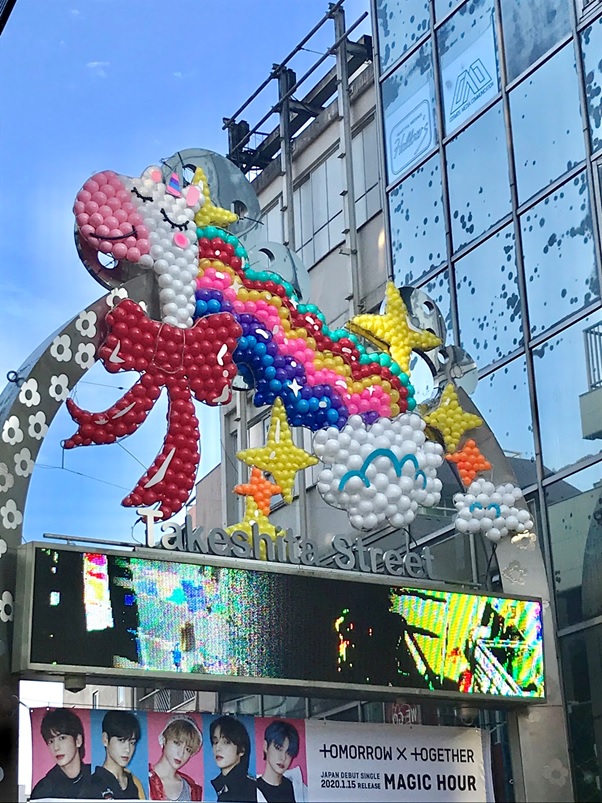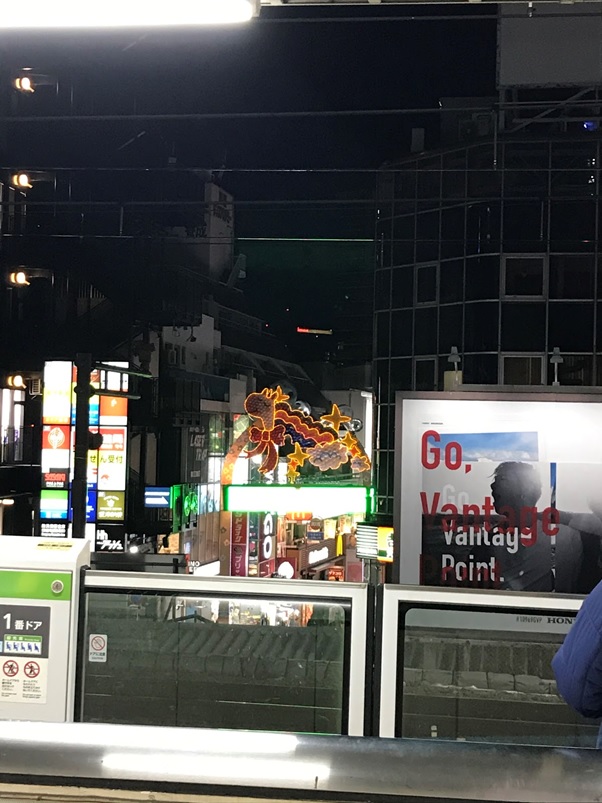 I hung out with Haruka and I asked her some questions about that project !!!
How did it all start ?
HK: I've been in touch with Takeshita street association since a previous event, and some month ago they reached back to me asking if I would agree to be this year's HAPPY WINTER ( a yearly big lottery event) producer. I said yes and from one thing to another they proposed me to design the gate !!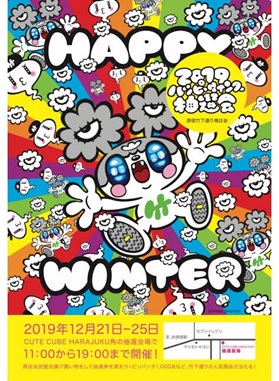 How did you think of that design in particular ?
HK: for this time's HAPPY WINTER, I chose to open a 1day Harajuku hair salon where anyone could have their hair cutely styled and decorated. To match this event, I opted for a Unicorn proudly showing their hair !
Who usually design the gate ?
HK: Until now it was Takeshita street association themselves. That's the first time they asked an artist to design it !! It's such an honor !
How did you feel seeing it for the first time ?
HK: I was told about its installation at the very last moment because the gate's changement date is not fixed and it's always a secret ! So they contacted me on December 1st  (2019) and told me it was going to happen today ! I went there, it started at 9pm and I stayed until my last train to watch them install it. My first thought was "wow, that's the biggest thing I've ever accomplished in Harajuku !!!". I was so happy I contributed to Harajuku this time not thru myself, but directly thru Harajuku town itself !

(See the installation and her live reaction in her→ Youtube video←)
What do you expect people to feel when seeing it ?
HK: "Wow ! I'm here ! That's Harajuku !!"
Can we expect you to design next seasons gates too ?
HK: Yes, I might do it again ! This summer Tokyo has been chosen for the Olympics. Lots of people will be coming from abroad and I really want everyone to have fun when coming to Harajuku, so I'd love to design the gate for that season, but nothing is decided yet.
For our readers planning to come to Harajuku, could you tell us approximately until when this season's design is going to last ?
HK: As I said, it's not decided precisely but I think it will still be there until January ends, hopefully longer, but I can't tell … I hope you can come to see it !!
Thank you Haruka !!
↓↓↓↓↓↓↓↓↓↓↓↓↓↓↓↓↓
☆Official website 
☆Instagram
☆Twitter
☆Youtube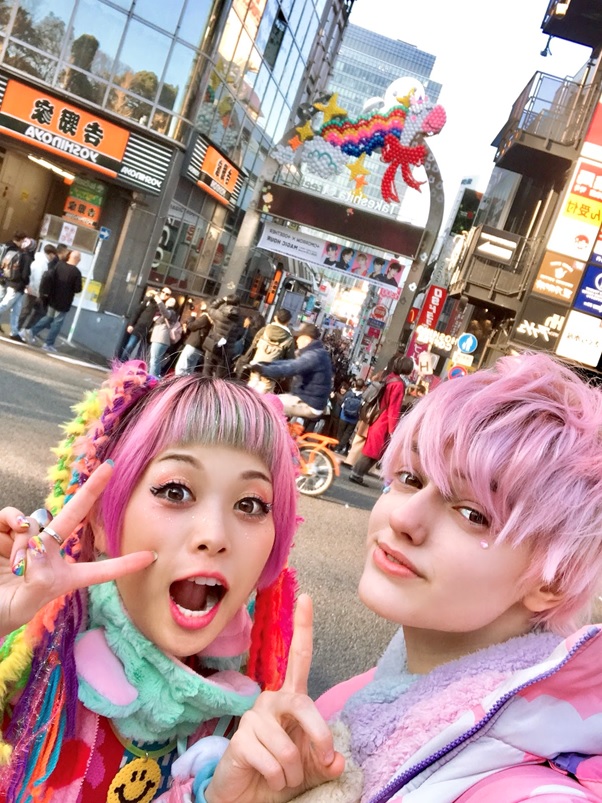 To resume I'd say to me it is one of the biggest symbol of Harajuku because it represents it perfectly : colorful, impactful, modern, interactive, with a pinch of old Japanese culture, and it changes every season just like Harajuku (as a place and a culture) does.
Subscribe to my tour program and I'll lead you through this amazing town !
To book HARAJUKU SHOP & WALK with NYUN, click pop-cul.jp EventRegist